As a digital nomad, you have fought hard for a lifestyle that lets you choose where to live. You can choose to work when you want and move on when you want. However, wherever you decide to have as your base, one thing remains true. That is,
digital nomads face a higher cybersecurity risk than traditional remote workers
. This cyber capacity guide for digital nomads will help reduce the cyber threat posed to the on-the-road lifestyle.
The three core risks that digital nomads need to be cautious about are:
Building your digital nomad cyber capacity will strengthen your resilience so you can enjoy your newly adopted lifestyle.
Secure your Nomad Lifestyle with a Cyber Capacity Strategy
In cybersecurity, the human is the weakest link. When you are aware of this fact, you need to act on it. You should do everything you can to safeguard your digital assets. That's why it's so important for you to develop strategies for managing personal online information. Keep it secure from online risks such as identity thieves. In addition, you'll also want to build enough cyber self-awareness to become resilient to attacks or data breaches.
Above all, your nomadic digital identity is dependent on:
This includes how your data and privacy strategies function regarding customers as well as your day-to-day behaviour.
What is Digital Nomad Cyber Capacity?
So what is digital nomad cyber capacity and why is it important to your business? Some behaviours will improve your
cyber capacity
. These will also strengthen your nomad brand and digital identity. Cyber capacity entails the following components:​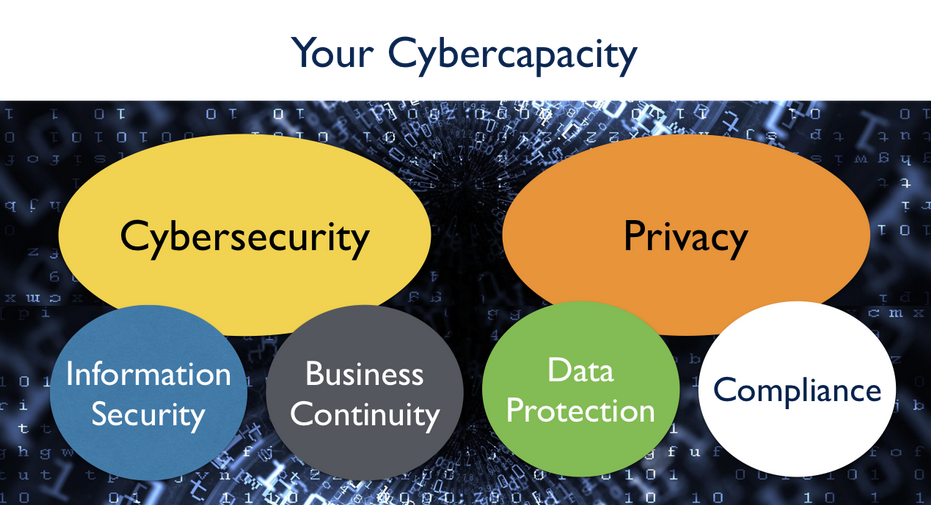 A Nomad's First Steps to Essential Cyber Capacity
You're probably not a big enterprise, so you don't have the challenge of aligning the mindset of an entire organisation. But as a
Brand of One
, you are responsible for every single interaction between you and your clients. This means you should be extra cautious about your online behaviour in your remote world, especially when you travel through airports and hotels. Start tackling the core threats today.
Avoid Using Public WiFi
You may have to use public WIFI when you are travelling in different public places, such as:
Working in a co-working space or cafe
These public Wi-Fi options pose the risk of not being secure. As a digital nomad, most importantly, it is crucial to keep your web traffic hidden behind a virtual private network (VPN).

A quality VPN app is simple to set up on your mobile devices. Make sure your VPN isn't leaking data, as this could mean:
Your IP possible exposure
After all, this is the reason you need a VPN in the first place. A VPN will ensure that your data doesn't get leaked. You can find a list of recommended VPNs
here
.
Keep Safe from Identity Theft
Identity theft will destroy your digital nomad lifestyle instantly. Use strong passwords to prevent you from getting locked out of your accounts. These include, for instance, email accounts, online games, bank accounts, credit card accounts, online forums, and social networking sites. In addition, they include every other password-protected corner of the Internet! As a result, using solid passwords will also protect you from becoming a victim of identity theft.
If you use a password manager, it means you don't have to remember a long list of unique passwords. You can keep all your passwords in a special, encrypted programme called a password manager. You can find a list of recommended password managers
here
.
Protect Yourself from Device Theft
Storing your devices in a safe place requires extra effort on your part. Every time you leave the room, you need to put your devices in the safest possible location. For example, the safe in the hotel, the specially designed locker in the hostel, or with people you trust – but make sure you trust them!

Never leave your bag or computer unattended. When you are working in a cafe or a co-working place, take your equipment with you. Rest assured, you're not being paranoid. You're being practical and saving yourself from a lot of potential trouble, financial loss, and embarrassment. Despite the temptation, never ask a stranger to watch your stuff while you go to the bathroom. Acting in this way provides you with zero protection against theft.
Get Started Now
Remember, your customers must be able to trust you with their data and information. As a digital nomad, you want to develop a mobile workplace culture that is conducive to cybersecurity and privacy. In other words, you are responsible for building your digital nomad cyber capacity.
To sum up, start with these steps and consider adding more to your cyber capacity as time goes on. The Cyberconnecting Blog covers more topics related to digital nomad cyber capacity. For a more strategic approach, check out the ebook
Your Cyberpower. How To Safeguard Your Remote Business
.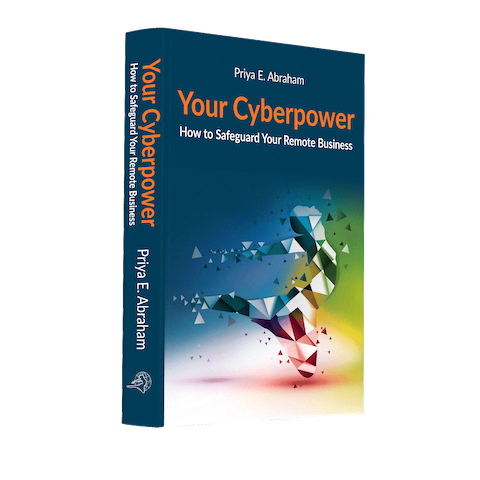 Get the Cyberpower Ebook